Donald Trump President Iraq
Bill McEnaney
Mar 27, 07:09 AM
You have completely missed the point.
That doesn't surprise me. Please tell me exactly what point I missed.
---
Donald Trump for US President
0014: Japan declares a state of emergency at the Fukushima-Daini power plant, where three of its reactors failed, the Associated Press reports. It says a state of emergency is already in place at the nearby Fukushima-Daiichi plant, where two reactors failed.
---
Donald Trump and with Melania
Yeah, because ever since the iTunes store opened, I haven't had the need...

Unless it's Metallica, then I'm all for ripping those guys off, just to mess with them!

TBH, I've never used music sharing sites. I have actually obtained physical copies of the original CD and ripped that. Other hard to find songs I do buy. So, your whole napster deal doesn't apply to me.

As per tethering, hell to the NO am I changing to a tiered plan.
---
donald trump for president
Apple might have held onto 3rd place if it had a mid range desktop computer positioned between the mini and the Pro.
I know I would have bought a new Mac instead of not buying anything.
---
Donald Trump
superleccy
Sep 20, 06:14 AM
All these calls for adding tuners, hard drives and burners are missing the point. Those functions belong in the host computer. iTV is just a method of getting the content from your Mac/PC to your stereo or TV.
Agreed. If you want a Mac Mini on the shelf under your TV, then, er, buy a Mac Mini!
If it's got a hard disk in it that's used for anything more than caching your iTunes Library file and thumbnails, I'd be very surprised.
Agreed again. If the HD was to be used for anything more than this, Steve would have made a bigger deal of it at the presentation.

Cheers!
SL
---
Donald Trump for president?
Silentwave
Sep 25, 11:41 PM
I'd pay for them to try and do a low voltage Clovertown like they did Woodcrest with the 5148LV. That one had a TDP not far off of Merom.
---
TRUMP FOR PRESIDENT IN 2012
flopticalcube
Mar 13, 03:57 PM
Probably, but it's speculation.

Not really. Chernobyl has an estimated death toll of 4000. Let's multiply that by 10 for arguments sake. More people are killed each year in the US alone by car accidents. Nuclear power is still a fairly minor risk.
---
Donald Trump Executive vice
appleguy123
Mar 24, 07:40 PM
That doesn't take away from how utterly hypocritical that train of thought is.
Donald Trump For President in
I know of at least one company (http://www.itv.com/) in the UK who won't be too happy if they keep that name.
---
He#39;s the President.
Mac'nCheese
Apr 23, 09:40 PM
How many people became theistic because of atheism? Or have their religious views strengthened as a result of atheism?

How many people became atheist because of religion? Or have their atheistic views strengthened as a result of religion?

This was my point in that statement.

And of course atheists will be less trusted. Atheism rejects non-societal Morals (unless you want to pull the "absolute morals exist and god(s) do not" version of atheism). Morality is completely defined by society at that point or at a more direct sense, by us.

Someone who is a practicing theist has a "standard" of Morals to abide by. Granted, a lot - if not most - of politicians are the "I'm a once a month Christian so people will vote for me" type but some (like GWB for better or worse) appear to take their faith with them to the office. This is a far more reliable set of beliefs, whether or not you agree with them, than someone who has arbitrary or personally decided morals.

I'm not sure I understand the point in the first part of your post so I'll have to skip that for now. Maybe you can phrase it a different way to help me out. Anyway, the whole "moral" issue has been raised and argued before. In my mind, there are many reasons why, logically, atheists are, by far, more moral then religious people. I'll just throw one out at you: your statement of someone who is a practicing theist has a "standard" of morals to abide by isn't something I can agree with for many reasons. One, why does one have to have a religious book to have a standard of morals. Atheists can know right and wrong and make laws based on common sense morals. We don't need some made up god to tell us what is right and wrong. Secondly, have you read some of the "morals" in the holy books. If so, and you still follow these rules, you have very low standards for what good morals should be. One needs to look no further then the section on how to treat your slaves in the bible to see this fact!
---
Donald Trump (credit: Getty
I do think the market can sustain 4 companies, perhaps even especially the casual market which is significantly larger. I would challenge you to answer why you think the smaller top-end console market can sustain 2 large players, but the broader casual market could not?

Unless Apple pulls a rabbit out of it's hat with Gaming, I'd think that iOS games would be more geared towards families and multiplayer... but not at the same level as something like Halo on XBox, but more like the Nitendo Wii games.

Given this, I think the systems that need to worry is Playstation (they've been having their own issues) and Nitendo given iOS games could easily take on the Nitendo market.

However, what's to say that Nitendo couldn't port some more popular games to iOS? It would be a killer combo and would expand their revenue stream to what could be a huge competitor.

IMHO, I think Nitendo should be talking to Apple and make it happen.
---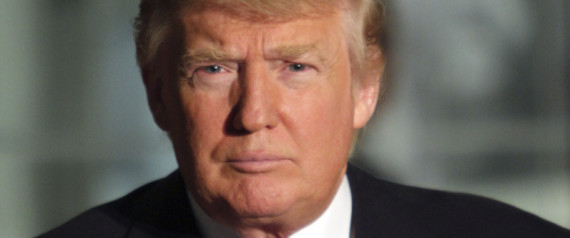 Donald Trump For President?
Man4allsea
Feb 15, 04:24 PM
Erm.. you're being closed minded.
Donald Trump amp; President
miniroll32
Apr 13, 03:39 AM
Is it any coincidence that the "so-called" Pros in this discussion (who have probably never even used FCP) are complaining about the Interface simply because it looks like iMovie, and so therefore must be "cheap/un-professional"? Its laughable! I'm sure these individuals don't even understand half the new features on offer which, of course, have been long waited.

My argument is simple - Unless you use this software on a regular basis, don't judge a book by its cover. Its no different to Logic Pro 8, for which I recall members were slamming because it had "no new big features", despite the fact it did.
---
Donald Trump,Politics,As Seen
Superb. Replace one fuel reliance on the Middle East with another. Genius idea.

I think you confuse cooperation with exploitation by paying those in the Sahara (which is Africa by the way) a fair price for their resource it's a win win situation,applying 19th century ideas to a 21st century problem isn't going to work.It would raise living standards in Saharan Africa to European levels very quickly.
---
Donald Trump and Hollywood
I have the 24 left of the 20. Way cooler for a total of 3520 x 1200.No. I think the line will stay the way it is adding 2.33GHz + 800 and 2.66GHz + $1500 Clovertown options in the Processor section on the configure page. That way according to your type of workload style you can choose between 4 faster cores if you do less multi-threaded work vs 8 slower cores if you are all about a Multi-Threaded Workload.I can't stand less than 1200 high. You know Dell monitors rotate too and rotation is supported with ATI Video cards but not NVIDEA.Link please? Never mind I found it with Google.

I can only hope that CS3 will be processor aware. I'm dying out here with CS2 under Rosetta. Has Intel announced a speed bump on Woodcrest yet?

B
---
Donald Trump for President
toddybody
Apr 15, 10:53 AM
Thank goodness for people that are able to have a neutral mentality. That much is refreshing and encouraging. You all have a FABULOUS day! (I gotta go out and buy something to wear for the Lady Gaga concert tonight!) :p

Alejandro FTW!!!!!
---
Donald+trump+for+president
So getting to my point, it would seem like this guy is spending a lot of energy trying to piss off media corporations. The only conclusion I can see is that he wants the attention. Flirting with lawsuits sounds as crazy as publishing trade secrets on your website. :D There's also this pro-Real Networks thing I think I am getting from his site, but that's for another thread...

Actually from what I know about the DCESS thing is that he is just a linux geek who wants to use mainstream products on his linux box. It has nothing to do with attention or media companies.
---
Donald Trump for President
I find it rather surprising how blindly people here defend Apple, even after seeing how they remove your rights little by little. How many times can you burn your iTunes-songs to CD? It used to be ten times. But Apple reduced it to seven.
As I recall, the limit is on how many times you can burn a specific playlist. You can burn a song an unlimited number of times. This is a big difference.

manu chao said:If you go to a concert, theatre play, any kind of performance or into any of fee-charging class or course and smuggle yourself in through some kind of backdoor without paying for the ticket or the course, did you steal anything?
This is an excellent analogy, manu chao. Everybody knows that it is wrong to sneak into a movie theatre, but for some reason people think it is OK to copy music illegally. It is just bizarre.

It seems to me that the issue is pretty darned simple -- as a potential user of iTMS you know what the rules are. If you don't want to abide by the rules, don't use the service. Any talk of "it's actually helping Apple" or "it's my music to do with as I want" is just self-justifying bull. If you don't like the rules, don't play. It's really that simple.
---
I like Donald Trump#39;s hair,
somemacuser
Apr 5, 11:04 PM
Was a MSFT user since DOS. Switched about 2.5 years ago. I'd concur with the few gripes already listed in here that are a bit of a change for windows users - my favorites (quitting applications isnt alt-f4 anymore, cmd-tab doesnt cycle windows, not being able to launch multiple occurrences of an application, giving up the ability to repair my imac myself, and the lack of a PC-like "delete" key instead of the backspace delete that's on the wireless keyboard - WTF!).

However, for the few things that were a change for me, I discover new stuff seemingly every week that makes me smile at the thoughtfulness that has been put into the Mac/OSX. Hard to list them all, but the sum of them makes the whole experience SO well done. A few weeks after getting the Mac I was ticked I waited so long to cut over. It was a non issue. I didnt make the leap until I was satisfied parallels would still be a viable option to run XP. It works great, but I never use it other than to show people a mac can run windows. :) OSX is so stable, smooth (scrolling, transitions, etc.), beautiful hardware, and elegant to work in I had no desire to go back. I am well aware that Windows 7 has come a long way, but its *still* not as thoughtfully designed.

As has been said many times on this site, ultimately, you can accomplish the same stuff on a PC, but its not as pleasant or easy to get there. As I get older and have less free time in my life with family/career, I appreciate just getting what I want out of the computer and not tinkering. I've done a 180 from my earlier days of taking some pleasure in reformatting a pc and reinstalling windows clean. Now my time spent fiddling is learning cool stuff in aperture and imovie. And I am constantly amazed at the quality of the output vs. the time invested.

Its hard not to be a raving fan of a tool that is that is so enjoyable to use, gives pleasure when you just look at the damn thing, and gives a meaningful return on time spent "learning" it. But my needs may be different than yours. 15 years ago I pounded code for a living and scoffed at apple stuff. Today my way of making a living and my priorities in life are very different. The mac is the right choice for me even if I cant close an application in one click from the corner.
---
Don't panic
Mar 15, 09:04 AM
I'm joking about Afghanistan. It's supposed to be an Isreal joke, but obviously you didn't get it. And I think it's funny! ;)

Regarding the relocation, I think that would be pretty cool. Why not? If it boiled down to it, I think what I said would be pretty practical and beneficial.

you think it would be 'pretty cool' to relocate 130 million people to some 'barren area' in a foreign land when there is absolutely no reasons for it?
and you think it would be "practical"????
---
acslater017
Apr 15, 11:00 AM
It seems like everyone is just ignoring all that for this hip, trendy cause.

What are you talking about? If you're talking about the Apple employees, this issue is obviously something that's very personal, real, and long-lasting for them. It's hardly a "hip" or "trendy" thing. If you're just talking about society (or the MacRumors forum), I don't understand that either. Many people are bullied, sure. But what's wrong with focusing on this particular group? There has been a recent spate in teen suicides due to teasing surrounding their sexual orientation.

Many people are suffering, so we shouldn't bring up the Tsunami in Japan? Wars occur all the time, so we shouldn't try to stop the genocide in Darfur?
---
triceretops
Apr 28, 12:32 PM
I'm sure if you rated all the companies on profit, Apple would be #1. Apple's margins are better.:)
---
Rodimus Prime
Apr 15, 09:35 AM
I have a couple problems with this approach. There's so much attention brought to this issue of specifically gay bullying that it's hard to see this outside of the framework of identity politics.

Where's the videos and support for fat kids being bullied? Aren't they suicidal, too, or are we saying here that gays have a particular emotional defect and weakness? They're not strong enough to tough this out? Is that the image the gay community wants to promote?

Man, being a fat kid in high school. That was rough. There were a number of cool, popular gay guys in my school. I'm sure they took some crap from some people, but oh how I would have rather been one of them! But hey, I'm still here, I'm still alive.

Bullying is a universal problem that affects just about anyone with some kind of difference others choose to pick on. It seems like everyone is just ignoring all that for this hip, trendy cause.

yeah that is kind of been my issue with this at well. They focus on the LGBT community but complete side track what I am willing to be is a larger group of striaght kids who get bullied and have long term emotional problems from bullies. That be the fact kids, kids with random disability or just easy targets for one reason or another but they are straight so they do not get focuses on by the media..
Ehh...I agree with you that bullying period, causes alot of pain. The only difference is, you can do situps to "fit in"...these kids are who they are. Kinda Apples and Oranges

Can not always do that. Also I was bullied to the point of near sucided when I was younger. I have always been skinny kid. I was not so much bullied because of weight or being skinny. I was a tall bean pole and hell even as an adult I am pretty much a bean poll. Currently I am 6'4" 175lb with out an ounce of fat on. 6 months ago I was 155 same weight I have been for nearly 10 years.

Fat kids was used as an example. But there are many others who are not fat and not looks and nothing can be done about it.
---
Tobsterius
Apr 13, 06:39 AM
Wirelessly posted (Mozilla/5.0 (iPhone; U; CPU iPhone OS 4_3_1 like Mac OS X; en-us) AppleWebKit/533.17.9 (KHTML, like Gecko) Mobile/8G4)

Looks like Apple made it easier to use and the so-called "Pros" feel threatened by that because it takes less specialized knowledge to do impressive work. We might not be there yet, but in time even grandma can edit. You get the point.

Part of the reason established IT folk feel so threatened by Apple.

You're incorrect... well... at least I think you are.

I have yet to meet a professional in this field that resists products getting easier to use. But what professionals hate are changes so drastic that 1) there's a learning curve, thus slowing them down, preventing them to make a living and 2) removing features that significantly change the workflow that allow them to work quickly and creatively.

Number 2 is my biggest worry. A complete rewrite is great. 64 bit is great. Grand Central is great. Multi-Core is great. What isn't great is the potential loss of features. Even the littlest feature, that most people would find mundane, could be very important to editors who've become used to that feature being in their workflow.

I work in broadcast/cable news where editors have to turn packages around quickly. You remove features that prevent them to work quickly because it altered their workflow... well now you're in trouble.

I can buy the excuse "Well they'll add it in version 2" if we're talking about consumer programs like iMovie. iMovie is not "mission critical."

But that feature that existed in the old-world FCP versions MUST be in X from day one, IMO, or else Apple will face a steep uphill battle to win FCP editors back.
---